Carpet Advances To Be Thankful For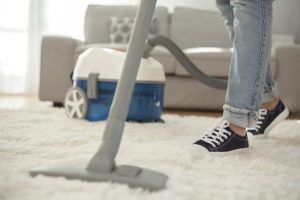 Living in America in the 21st century, we all have a lot to be thankful for.  Daily life is much safer than it was 100 years ago as well as much easier.  It's worth noting that daily life is also significantly cleaner than it was a century ago.  The wondrous inventions of modern-day technology have revolutionized household maintenance.   Keeping the house clean used to be a full-time job, often one that required additional hired help to maintain larger houses.  Caring for flooring is just one area that has changed for the better over the past 100 years or so.  Below are a few major flooring advances that merit our thankfulness at this time of year:
Flooring Choices
In the early 1900's, flooring choices were limited.  Wood floors were the most common type of flooring with tile and linoleum used in many kitchens and bathrooms.  Around the middle of the century, carpet became more inexpensive and began to replace wood as the most popular flooring type for American homes.  Over the past 30 years, flooring options have exploded.  Homeowners now have flooring choices that range from traditional hardwoods to an array of innovative materials, such as cork, bamboo, and concrete.  Even more conventional types of flooring such as vinyl have experienced improvements that make them more attractive and functional than previous styles.  As choices have increased, ease of cleaning has improved as well.  Wood floors generally require more substantial attention than do newer flooring selections.  Driven by consumer demand, flooring manufacturers have sought ways to make their products easier to keep clean.
Vacuum Cleaners
Nearly every home has a vacuum cleaner these days.  Can you even imagine keeping your house clean without one?  Especially if you have carpet, a vacuum cleaner is a necessity.  Yet before the early 1900's pulling out a vacuum cleaner was just not an option.  Floors were kept clean largely with a broom and a mop.  Rugs were typically hung up and beaten to remove dirt.  As carpet became more widely used in the mid-century, vacuum cleaners' popularity grew likewise.  Regular vacuuming has become a part of most household's cleaning routine and is an effective way to deal with the ongoing accumulation of dirt, dust, allergens, and even germs.
Water Extraction Carpet Cleaning
While vacuum cleaners play a vital role in the daily task of keeping floors clean, their shortcomings are widely acknowledged.  The mechanism of these machines is simply not able to remove all dirt and grime.  In particular, liquid spills and smaller particles easily escape the suction of the vacuum.  The vacuum does nothing to remove stains or disinfect areas that are contaminated with biological material.  Thankfully, another helpful invention is the perfect complement to the vacuum cleaner.  Water extraction carpet cleaning (often known as steam cleaning) rids carpet of what is left by regular vacuuming.  Professional carpet cleaning provides an efficient way for homeowners to keep carpet clean and looking like it did when installed.  Besides contributing to the appearance of carpet, it also improves air quality, reduces odors, and alleviates the effect of pathogens and allergens.
Life today isn't perfect, but we have much to be thankful for.  Not everything about "the good old days" was really all that good!  Langenwalter can help you keep your floors clean by providing professional carpet cleaning services.  We also offer deep cleaning solutions for tile, laminate, upholstery, and more.  Give us a call today at 317-876-9944 and you'll be thankful you did.  Remember that Langenwalter also provides water remediation and restoration services.  Our team of experts is ready for immediate dispatch 24 hours a day/7 days a week to deal with your water emergency right away.