Cleaning for Holiday Entertaining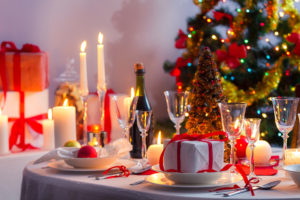 Great entertainers make it look easy.  Their guests feel welcomed and comfortable.  Every need is anticipated and met in a seemingly effortless manner.  Attending an event hosted by them can make you think that entertaining is no trouble at all.  You might lose sight of the fact that hosting a holiday event takes significant investments of effort and time.  There is the making of invitations, the planning of activities, the preparation of food…and of course the cleaning!  To clean for holiday entertaining, you definitely need to start sooner than a few days before the event.  Here's a plan to make sure your home is clean enough to have your guests thinking what an amazing entertainer you are!
One Month Before
It's been a long time since spring cleaning so it's always a good idea to start with a deep clean.  But of course you can't do all that the day before guests arrive.  You have to pace yourself!  Take some time about a month before your event to tackle this job.  During this time, you can wipe down walls, clean ceiling fans and light fixtures, and wash windows (if weather permits).  You may want to clean out your refrigerator and get it clear and ready for all the delicious food you'll make.  This is also a good time to schedule a time to have your carpets cleaned.  When your floors look clean, your whole house will look clean.
Two Weeks Before
As time gets closer, you're sure to be busy.  But keep plugging away and remember your goal to host a fabulous event!  Now is a good time to consider guests who may be spending the night (or nights).  Survey your guest room and see what needs to be done there.  Sweep and dust the room and then give some thought to what your guests might need.  Set out extra blankets and pillows in case they are needed.  If the room has been shut up, you should open the windows and let the room air out.
The Week Before
Your party will be here before you know it!  Now is the time do anything that doesn't have to wait until the last minute.  Make sure that your pantry is stocked and organized so that you don't have to waste any time while you are cooking.  Clean appliances that may have accumulated dust or grime.  Wash and iron any table linens that you are planning to use at your event.  Dust out of the way surfaces that don't get attention during your regular cleaning, including the steps and the banisters.  Finally, when you do your regular vacuuming, be sure to move the furniture to get rid of dust bunnies that may be multiplying in the dark.
The Day Before
It's almost here!  This is crunch time.  Do your regular cleaning tasks, such as vacuuming, dusting, and shining.  Be sure to give all bathrooms a thorough cleaning.  Clean the front door and accompanying windows.  You'll want them to be sparkling clean to greet and impress your guests.  Set the table with linens and dishes and move furniture as necessary to accommodate your visitors.  Put away any clutter that has emerged in the last few days.  And finally, make certain that your entry closet is empty enough to hold the coats of your guests.
When the day of your party arrives, you will be ready…or at least your house will!  Then all that will be left is just to sit back and enjoy your company.  If Langenwalter can help in the process, just give us a call (317-876-9944) or schedule online.  We can get your floors and upholstery clean enough for even the harshest critic.  We are also here to help if a water emergency threatens to get in your way of throwing a great party.  Our team of water remediation experts is ready for immediate dispatch whenever you need us.  Call us at 317-876-9944 anytime 24/7. With our help, you'll earn a reputation as a great entertainer!