Scary Complications of Water Disasters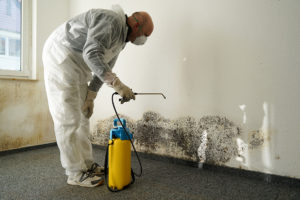 As we flip the calendar pages to October, our thoughts turn to Halloween and the scary things that go with it.  Tombstones, skeletons, ghosts, and spiders seem to appear everywhere this time of the year.  Those may be scary to children, but for most adults, a home disaster can be far more frightening.  Water disasters alone can bring with them a range of alarming complications, some of which would strike fear in any homeowner.
Loss of Personal Property
Water itself is not scary.  But what is scary is water that crosses its boundaries and escapes its containment.  When water gets into places it isn't intended to be, it damages whatever it touches.  If your personal property finds itself in the path of wayward water, it can be harmed, sometimes beyond repair.  Some materials that are specifically susceptible to water damage include:
Wood – May be warped or weakened.
Paper – May be left crumpled, unreadable or stuck together
Electronics – Internal components may be ruined
Metal – May experience corrosion
Weakening of Home's Structural Integrity
Beyond just your personal property, the very sturdiness of your home can also be damaged by a water emergency.  The nature of water makes its flow difficult (if not impossible) to control.  It will find its way under, around, between, and into every inch of building material that it touches.  Many of these materials do not react well to an intrusion of water.  Wood may begin to warp, making it change its shape and fit with other materials.  Other building materials may experience delamination after contact with water.  These processes can cause the structural integrity of your home to be compromised, leading to weakness and damage as time goes on.  And the scariest part of this complication is that you might not even aware that this damage is happening!
Fire and Electrical Hazards
When you think of damage from flooding, fire and electrocution may never enter your mind.  While these may not be the most obvious complications of water damage, they could be the scariest.  Losing personal property or experiencing damage to your home is terrible, but it pales in comparison to the loss of life that can occur in a fire or electrical accident.  Since water finds its way inside walls and floors, it can cause electrical circuits to short-circuit or sustain damage.  Furthermore, since water conducts electricity, damage to electrical appliances or wiring can cause electrocution just by touching water that is in contact with a live circuit.  The bottom line is that extreme care must be taken when flooding may cause exposure to electricity.
Damage to Long-term Health
Some consequences of a water emergency appear almost immediately.  In little more than an instant, your life, home, and possessions may be irrevocably altered.  Once the damage is done, the clean-up can begin.  Yet what about those complications that extend far beyond the actual flooding event?  If water is not properly and promptly remediated, mold spores may invade and begin to multiply.  Homeowners may be unaware that these dangerous fungi have taken up residence.  As the mold grows, those living in the infected house may begin to experience health problems.  Some of these health issues can be quite serious and unfortunately are not always easy to diagnose if the mold is undetected.  Water can also bring with it other pathogens, such as viruses and bacteria, that can spread illness.  When water is contaminated with sewage or other tainted materials, the risk is amplified.  An ongoing threat to your health or the health of your family members can be truly scary indeed.
The frights and fears of Halloween come with a measure of fun.  A mask can be removed, a costume can be changed, a decoration can be taken down.  However, the scary possible effects of a water emergency are nothing to laugh about.  Rather they should be avoided at all costs.  Langenwalter can help you to elude these disasters with expert water remediation.  Don't expose yourself to these dangers.  Call us at 317-876-9944 right away (anytime day or night) and we will put an end to your nightmare!