Getting Your Patio Ready for Winter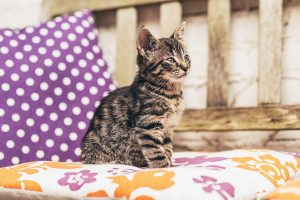 It may seem like you just got your patio ready for a summer of entertaining.  Yet the cool temperatures and the shortening days tell us that the days of summer are coming to an end.  While we have a few months before winter arrives in full force, fall is definitely on the doorstep.  As colder weather takes hold, the patio gets less and less use.  Eventually, the day will come when all the furniture, accessories, and patio cushions must be put away, out of the harsh elements of winter.  As you prepare for this annual endeavor, here are some important steps.
Repair and Replace
Summer can be hard on your deck and patio.  In addition to outdoor entertaining and activity, outdoor spaces also must endure the assaults of nature through the summer months.  Unrelenting heat, driving rain, and fierce winds can all take a toll.  If you have furniture or accessories that were broken or weakened during the summer months, now is a great time to repair or replace them.  Not only will you have what you need when you open your patio next spring, but you also may find a good deal on end-of-the-season sales.
Clean and Launder
You probably keep your outdoor areas fairly neat throughout the warmer seasons.  This allows you to enjoy your time on your patio or deck and welcome others to share the space.  But let's be realistic – it is still outside and exposed to the elements day after day.  Even with close attention to the condition of your outdoor space, there will still be an accumulation of dirt, mud, animal damage, and microbials.  When you close down your patio or deck for the season, it is a good idea to clean or launder any fabric materials.  This will keep dirt from becoming ingrained and also discourage the growth of mold or bacteria.  Best of all, you will be sending your future self the gift of a more pleasant set-up task next spring!
Cover or Store
Finally, your work will all go to waste if you do all this repairing, replacing, cleaning, and laundering only to put things back outside again.  If you have space indoors, it is always best to store your patio furniture and accessories away from the ravages of sun, rain, wind, and moisture.  A garage or storage shed will usually provide adequate protection.  Some items such as pillows, blankets, cushions, lighting, and decoration may be easily stored in a closet or basement.  For those pieces that are too big to store or that may be used through the winter, such as a grill, a secure covering can provide at least some protection.
As you tear down your outdoor area, Langenwalter can help.  We are now offering service to clean your patio cushions.  These outdoor cushions will receive the same high-quality cleaning treatment that your carpets and floors do.  Then when they are neat and clean, we will return them to you.  For the first customers that take advantage of this service, we are also offering storage of the cushions until next spring.  Call us now at 317-876-9944 to get on our schedule!
Cleaning patio cushions is just another way that Langenwalter helps you keep your home clean and beautiful.  In addition, we also clean carpets, wood floors, tile, Oriental rugs, and upholstery.  Remember too that we provide water remediation services, with technicians that are ready for dispatch anytime you need us.  Keep our number (317-876-9944) handy and call us day or night to take care of your water emergency.