Tips for Furniture Upholstery Care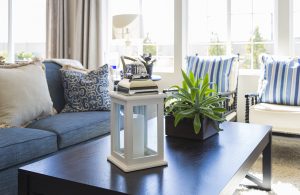 Many day-to-day activities take place on your furniture.  When guests visit your home, you offer them a comfy chair or a place on the sofa.  At the end of a long day, you snuggle up in a recliner with a book or a blanket or your faithful pet.  Your furniture provides a place for you to gather with family, relax to watch the television, or even eat a quick bite.  But all these activities can take a toll on your furniture over time.  Practicing appropriate upholstery care will help your furniture to endure for years of activity and enjoyment.
Vacuum Upholstery Regularly
Just like with carpets and other floors, regular vacuuming can deliver significant benefit.  Dirt, dust, sand, and pet dander can slowly damage upholstery if they are not removed.  They increase the amount of wear that upholstery sustains.  You should vacuum furniture once every few weeks (or more often if your furniture receives extra "attention" from kids or pets).  This prevents dirt from becoming embedded in your furniture and causing permanent stains.
Clean Up Spills Quickly
When it comes to spills, time is of the essence.  Spills can happen quickly, and they should be cleaned up quickly as well.  The longer you leave a spilled substance on your upholstery, the more time it has to soak in.  Be ready to clean up accidents as soon as they occur.  The strategy for cleaning up a spill may vary based on what specific fabric covers your furniture.  Usually, though, blotting up all excess liquid and applying a mild cleanser approved for your upholstery is a good start.  Be sure to test any cleanser on a small, inconspicuous area of upholstery before applying it to larger, more noticeable sections.
Avoid the Build-Up of Chemical Residue
As you clean up any spills, you want to make sure you don't overdo it on the cleaner.  Of course, chemicals can help remove stains.  That's why we use them.  However, if the chemicals are not completely removed, their residue can actually attract dirt and grime.  Left-over chemical residue can cause a secondary stain in the place where you've used them to remove the original stain.
Protect Your Upholstery from Damaging Sunlight
While we tend to overlook the harm to upholstery from sunlight, it can be significant.  You won't notice your furniture's fabrics changing colors from one day to another, but over the years sunlight can cause fading.  The solution to this problem is fairly easy.  Drapes, blinds, or curtains can keep direct sunlight from damaging your furniture.  If this is not possible, you may want to cover your furniture.  Just make sure that you cover it completely if you choose this strategy.
Perform Annual Deep Cleaning
In addition to regular, weekly cleaning tasks, most places in your house need an annual deep cleaning.  Your upholstery is no different.  Dust from the air, dirt from clothes and shoes, and fur from pets can slowly build up over time…even when you are diligent to clean up messes.  An annual deep cleaning keeps your furniture clean and fresh and looking new.  Just as you trust Langenwalter for regular carpet cleaning, you can also rely on us for upholstery cleaning.  We bring the same technical expertise and exceptional service to cleaning upholstery that customers have come to expect from us.
Your furniture is part of what makes your house a home.  It provides a comfortable and practical place to live your life.  To keep your furniture looking its best, you need to perform regular upholstery care.  Langenwalter will do our part to keep your furniture looking new for years to come.  Day-to-day maintenance like regular vacuuming and quick clean-ups are up to you.  But when you're ready for a deep cleaning, we will get it done.  Right now, you can apply our current money-saving offer to save on upholstery cleaning.  Call 317-876-9944 today or schedule online.