Selecting the Right Carpet Cushion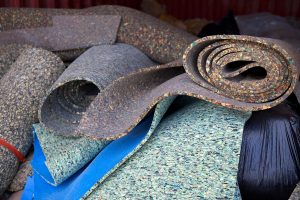 In our last blog, we looked at the benefits of having good carpet pad (also known as carpet cushion).  But how do you know what kind of carpet padding is right for your carpet and your situation?  This week's blog will lay out some of the basic properties of carpet padding and how those properties affect the function of the pad.
Carpet Cushion Materials
Carpet pads are made from several different types of materials:  foam, rubber, and fibers.  Within each of these categories, there are also specific varieties.  Within residential settings, the most popular material is a type of foam called bonded urethane (commonly known as rebond).  This material is made of recycled foam and bears the distinctive patch-work look caused by the combining of different colored scraps.  For more detailed information on the various types of materials used in carpet cushion, visit the Carpet Cushion Council's website.
Carpet Cushion Thickness and Density
There are two main properties, in addition to material, that are important to consider in carpet cushion choices.  These properties are thickness and density, and they are closely related.  Usually, carpet pads installed in homes will have a density rating between 6 and 8 pounds. Higher density pads are more firm and generally help carpet to better avoid wear.  Lower density pads offer a somewhat softer feel, but may not allow carpets to hold up as well.  Thickness of cushion also affects the longevity of your carpet.   Many carpet warranties specify the thickness of the cushion installed underneath the carpet in order to keep it valid.  Possible negative effects of installing a carpet cushion of inappropriate thickness are the development of folds in the carpet or the premature deterioration of the carpet.
Other Factors to Consider
Besides just considering the basic properties, you also want to think about your own individual situation.  Some pads hold up better in high-traffic areas than others.  Others will provide more comfort for those who spend more time sitting on the floor.  There are pads that are designed to prevent water absorption.  If you have toddlers or pets, this choice may be beneficial to you.  Certain cushions work better for those who suffer from allergies or asthma.  All these factors should be discussed as you work with your carpet vendor to select the right carpet cushion.
Listen to the Experts
Selection of a carpet pad is a bit complicated as you can see.  There are many different factors to consider.  Thus, it is important to take the help of industry professionals.  One great source for information about the right type of cushion for your carpet is the manufacturer's warranty.  They will usually recommend or require certain cushion specifications.  In order to maintain a valid warranty, you must choose a cushion meeting those specs.  They do this because they know what is good for keeping the carpet from wearing prematurely.  Secondly, find a knowledgeable representative to assist you with your carpet and cushion decisions.
The right carpet padding forms a solid foundation for keeping your carpet looking great for years to come.  Langenwalter can help with that too.  Regular professional carpet cleaning not only keeps your manufacturer's warranty valid, but also contributes to the ongoing attractiveness of your carpet.  Call 317-876-9944  to schedule today.